Gourmet Sandwiches and Fare
handcrafted with love by the Martone Family
Specials
Sicilian Braised Beef Panino-
slow cooked chuck beef in a tomato, cherry pepper and beef sauce served in a panino w/ provolone cheese and basil pesto… 💣 hits the spot on a day like today!!
New England BLT on Ciabatta -
fried flounder filet sandwich w/ lettuce, tomato, bacon, and tartar sauce
The Mayflower Wrap w/ stuffing-
Oven roasted turkey, bacon, shredded lettuce, cranberry sauce, mayo and stuffing wrap
BEST CHILI EVA
ITALIAN WEDDING SOUP
Since 2002, Figaro's Boston has been the "go to" for gourmet sandwiches, salads, soups, and fare.
Located in Boston's budding leather district, nestled between China Town and South Station, Figaro's has cultivated a unique approach to breakfast, lunch, and catering. Our mission was and remains, offering our diners creative options and taking the idea of grabbing a "quick lunch" to new culinary heights. With an extensive breakfast, lunch, and a daily specials menu, make your next lunch an adventure.
Rosie Martone
Chef/owner
Cooking was always there, present in her Italian upbringing and traditions, embedded in the very Martone genetics.. a strong bond between her, and food, which fueled her desire to learn, travel, cook, and eat. Her cooking perspective..cook not what fills..but fulfills you. From selecting, picking, cutting each ingredient, to preparing, cooking, and plating..love the process.. and they'll love the food. Rosie is a graduate of Le Cordon Bleu Boston and Regis College. Last year she was recognized by both, being asked to be the keynote speaker at the Le Cordon Bleu graduation, and being featured in "Regis Today" magazine. You'll find Rosie in the kitchen cooking.
John Martone
Owner and manager of Figaro's, Giovanni, graduate of Merrimack College, came from an extensive background in finance and investment. While opening a restaurant seemed the furthest from a "sound" investment, he recognized the possibilities, the cooking talent right under his nose, and that there was a definite market for home-made, creative, and comforting quick-serve food.. If you build it..they will come..he did..and they do...
In 2002, Rosie and John opened Figaro's Boston. It is truly a family affair. The whole family was featured on The Food Network's hit show, "Chopped" , as a first time special, Chopped Family Food Fight. (Season 22, ep 2) and most recently on The Phantom Gourmet
PHONE
(617) 426-2121
LOCATION
105 Beach St.
Boston, Mass 02111
HOURS
Weekdays 11:00- 2:30pm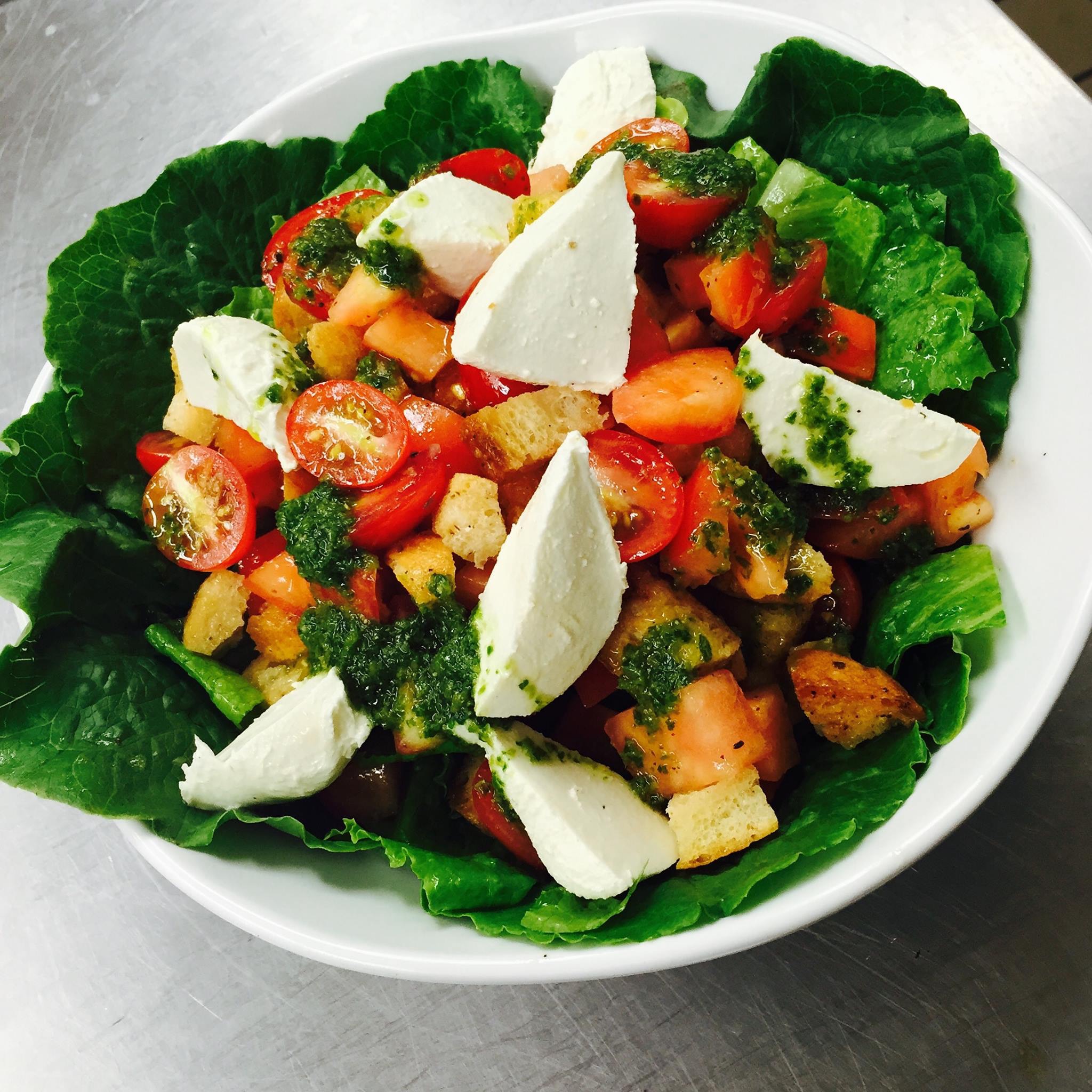 Salads / 9-12.95
made fresh daily!!!
Garden Salad- Only the veg
Classic Caesar- romaine, parmesan, house croutons
Greek Salad- romaine, iceberg, all the veg, feta cheese, calamata olives
Mediterranean- romaine, feta, roasted red peppers, calamata olives, sun-dried tomato, croutons
Caprese Salad- roma tomato, croutons, fresh mozzarella, romaine lettuce, basil vinaigrette
Antipasto Salad - romaine, roasted peppers, tomato, red onion, calamata olives, fresh mozz, Prosciutto, salame, capicuolo, provolone cheese
Chef Salad- romaine, iceberg, all the veg, ham, swiss cheese, smoked turkey
Turkey Club Salad- romaine, roast turkey, diced tomato, crumbled bacon, shredded cheddar cheese, croutons
* Add Chicken, or any other protein for $3
soups
In rotation weekly / check daily specials or call
Italian wedding soup Lentil and Wild Mushroom Corn n Potato Chowda Italian Divorce Soup Minestrone
chicken pot pie soup* Butternut squash and apple* Three Sisters Soup* Clam Chowda* Sausage and canellini bean*
turkey and wild rice* coconut curry chicken* beef tortellini* chicken tortilla*
*seasonal
Catering Menu
*These sandwich varieties are available for larger catering orders, at a minimum of 5-10 per selection. For smaller orders refer to our lunch menu.
Catering FAQ
Why should I choose Figaro's to cater my event or meeting?
We have 17 years of experience creating customized menus that fit every need and desire.

Our gourmet creations are prepared by Chef Rosie Martone and a highly talented and dedicated team.

All our offerings feature only the finest and freshest ingredients.

Our sandwiches and salads are creative, thoughtfully crafted, and generous in quality and quantity.

Globally inspired hot and cold entrees offer the customer an opportunity to elevate any menu.

We obsess about presentation, punctuality, and professionalism.

We customize your experience from the moment you call to the moment we deliver. WE PROMISE.
What is a typical lunch order?
As stated above we truly do customize every catering. However, our most popular order consists of an assortment of our gourmet sandwiches, along with select trays of our exciting salads, and completed by a tray of our delectable, house baked desserts.
How do I place my catering order?
Call us at our Boston location anytime Monday - Friday from 9am-3pm (617) 426-2121. Email us at Figarosboston@gmail.com. Please give us at least 24 hours notice to assure that you will get exactly what you are looking for. Remember that we will customize your order so if you don't see something you want, just ask. We believe in the old fashioned method of person to person communication to ensure success!
Mmmm.. Shrimp?
Specialty items such as cocktail shrimp or smoked salmon are available....the possibilities are endless and chances are we've done it.
What about dessert?
Figaro's is famous for our house-made brownies, blondies, and chocolate chip blondies baked daily! We also offer a variety of special order desserts such as tiramisu, cannoli, pastry, and cakes.
Holy shitacki mushrooms! I need a catering for 20+ people.. TODAY!
Quick what time is it? Before 9am? Ok, good, give us a call right now.
We may be able to squeeze you in, but seriously only if it is before 9am.
The early bird gets the sandwiches as they say.
Do you deliver?
We deliver catering orders only.
Our catering is very popular and we book up quickly. First come first serve.
All lunch deliveries must be accepted by 11:15am on weekdays.
Call for evening or weekend options for your special event
What is Curbside delivery?
We make arrangements with your contact persons to meet us curbside at your designated location/ workplace, at a designated time to drop order off. Sometimes this is the only option we can offer you depending on our schedule and/or the process to get to your office!!
Can you deliver to my office through the building's loading dock?
All information regarding the loading dock, and everything we will need in terms of security and identification must be provided. Whether there is a communal cart available for transporting food or whether we will have to provide our own. And any other pertinent details. We will do our best to accommodate your needs.
I don't see any pricing on the catering menu, what gives?
We customize each catering order. All you need to do is email, and or call, from 9-11am (617) 426-2121.
Figaro's Customer Sandwich Competition!!!
Chance to win $1,000 in sandwiches!! Create it, Name it, we'll make it and sell it.. and if it sells more than the other 19 sandwiches we pick, then YOU WON! Second and Third places prizes included. Do you have what it takes? Details available at Figaro's.